D'après Gale Force Nine | GF9 2021 | customerservice@battlefront.co.nz
Clavery's Chargers
The brave and capable Lieutenant Colonel Amédée Clavery leads the Algerian veterans of the 9e Régiment de Tirailleurs Algériens (9th Algerian Light Infantry Regiment). These fierce warriors will storm across no-man's-land to take the Bosch in his trenches. They advance in the company of the latest French war machines, the Chars d'Assaut, or as our British Allies call them, 'tanks'. The Schneider CA.1 and Saint Charmond Chars d'Assaut grind forward into battle, bristling with machine-guns and powerful cannons. With heavy machine-guns and savage trench mortars also in support Clavery's Algerians will be hard to stop.
Unlike the French Metropolitan troops, who wore Horizon Blue, colonial troops like the 9e Régiment de Tirailleurs Algériens wore a French version of Khaki that better matched the far flung parts of the French Empire these troops hailed from. Most of the models picture in this spotlight have been painted as Metropolitan troops in Horizon Blue, following the painting guide in Great War. Of course, you can paint your force in which ever uniform colour you prefer, depending on your army list.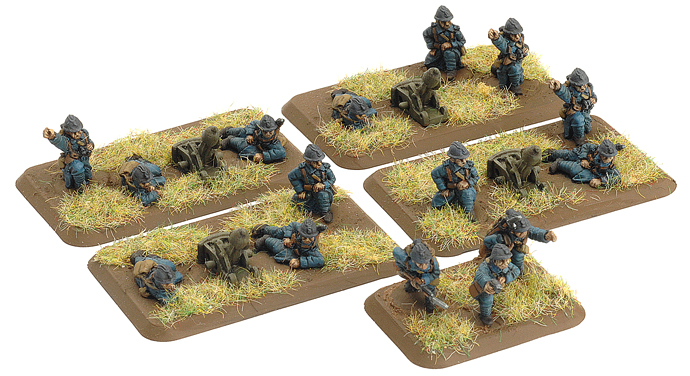 The Companie de Fusiliers HQ
contains 2x Command Pistol teams, 3x Flame-thrower teams, 2x 37mm mle 1916 gun teams
Le brave et capable lieutenant-colonel Amédée Clavery dirige les vétérans algériens du 9e régiment de tirailleurs algériens (9e régiment d'infanterie légère algérienne). Ces guerriers féroces prendront d'assaut le no man's land pour renvoyer le Boche dans ses tranchées. Ils avancent en compagnie des dernières machines de guerre françaises, les chars d'assaut, ou comme nos alliés britanniques les appellent des « chars ». Le CA.1 "Schneider" et le char d'assaut "Saint Charmond" se lancent dans la bataille, hérissés de mitrailleuses et de canons puissants. Avec des mitrailleuses lourdes et des mortiers de tranchée sauvages également pour soutenir les Algériens de Clavery, il sera difficile de les arrêter.
Contrairement aux troupes métropolitaines françaises, qui portaient du bleu horizon, les troupes coloniales comme le 9e Régiment de Tirailleurs Algériens portaient une version française du kaki qui correspondait mieux aux parties éloignées de l'Empire français dont ces troupes étaient originaires. La plupart des modèles représentés sous les projecteurs ont été peints en tant que troupes métropolitaines en bleu horizon, en suivant le guide de peinture de la Grande Guerre. Bien sûr, vous pouvez peindre votre force dans la couleur de l'uniforme que vous préférez, en fonction de votre liste d'armée.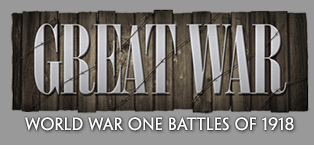 ---
Société d'Histoire du Vésinet, 2021 • www.histoire-vesinet.org